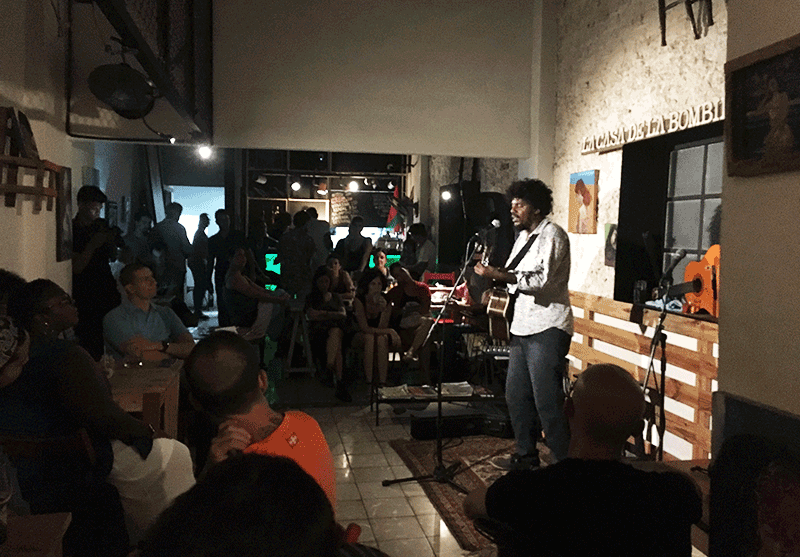 La Bombilla Verde owes its name to a song by the Cuban songwriter Silvio Rodriguez. It is an active artistic space in El Vedado, a bohemian Tapas Bar with live performances of Cubans troubadours almost every night.
Young musicians from all over the island come to perform here, but don't imagine big concerts or huge crowds; the ambience is closer to what you get when a group of friends gather around a guitar and suck down a few drinks. On top of the great live music there are art exhibitions, literary gatherings and audiovisual projections. The style can be described as bohemian, flexible and relaxed, quite different from what prevails in the city.
Its modern rustic design brims with personality. Like many other businesses in Cuba the Bombilla is a remodeled apartment, with a small bar, a large room for musical sessions and an outdoor terrace where smokers chatter under the green light of the entrance.
The walls are white, decorated with different artworks from Cuban artists. The furniture is casual, of untreated light wood; sometimes you might sit on a table made of pallets, or on tires filled with cushions, or directly on the floor. The bathroom is a talking point: the walls are completely lined with an incredible collection of comics and Cuban graphic novels, quite old and difficult to acquire.
The space is managed by a Spaniard who has lived in Cuba for many years and brings an Iberian touch to the bar with some delicious tapas offerings. The potato omelette, wet inside and toasted on the outside, or the txistorra with fries go down wonderfully with a cold Cuban beer.
If you're not into glamorous cabarets or repetitive electronic music, the Bombilla Verde is made for you. The venue closes around midnight, but the party often continues until dawn, at the home of an enthusiastic host or on the wall of the Malecón.
Address: Calle 11 #905 e/ 6 y 8, Vedado, La Habana.
Schedule: Tuesday – Sunday, 17:00 – 1:00.
Phone Number: +53 5 8481331
E-Mail: delabombillaverdelaviejacasa@gmail.com