If you are in Havana and have had a little bit too much of the local cuisine, fear not – there's a huge array of exotic restaurants to choose from. You can decide on Chinese, Japanese, Arabic, Indian, Korean, Italian, Mexican, Russian, and more. This is hardly big news to those from the US or Europe, where international cuisine has been readily available for decades. But in Cuba, until just a few years ago, this kind of culinary choice was only available in science fiction stories. 
Right now, luckily for us, Cuba's capital is poised for culinary excellence. So, if you've had enough ropa vieja, congrí rice and yuca con mojo criollo for the moment, here are Havana´s 5 best 'exotic' food restaurants. ¡Buen provecho!
Jama
As soon as you step inside, this restaurant welcomes you with an exciting blend of Cuban and Japanese cultures. The combination of an appetizing waft of smells, warm hospitality and daring décor of Japanese fables somehow makes us feel completely at ease. The drinks had impressed us already, but the food was even better, combining authentic flavors and fresh ingredients.
Food: Japanese – fusion
Address: Aguiar #261b e/ San Juan y O´rreilly
Contact:  +53 78642252, +53 52647977
Schedule: noon till midnight
Price: Average – Expensive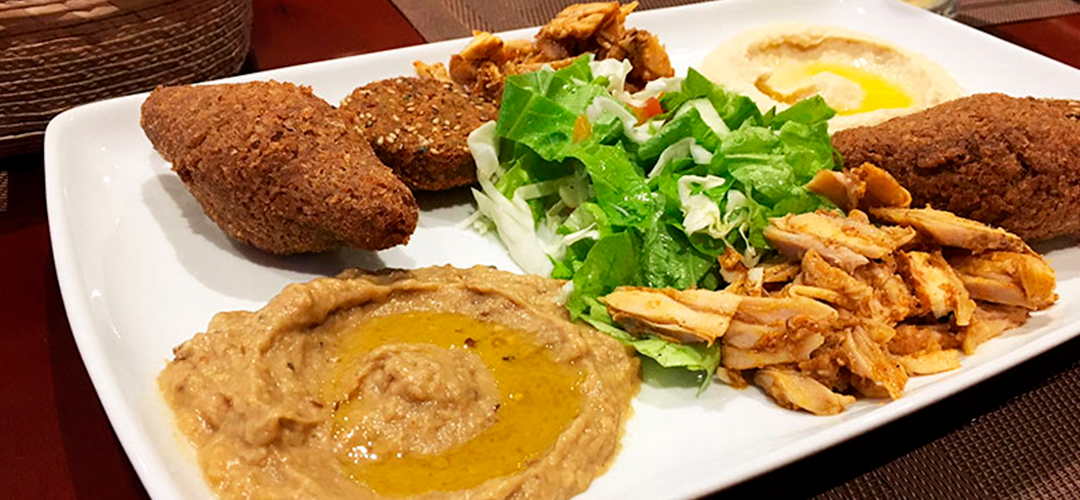 Beirut
The food here is authentic and packed with flavor. The open kitchen allows diners to watch chefs cutting the meat from the shawarma and to follow the elaborate preparation of dishes. We recommend the falafel served with tarator sauce for a top texture and taste combination, while the shish – tender lamb or chicken kebabs served with deliciously smooth hummus and rice on the side – are a highlight. Don't miss the rich, decadent baklava for dessert!
Food: Lebanese
Address: 1ra #237 e/ A y B, Vedado
Contact: +53 78315883 +53 52924333
Opening Hours: noon till midnight
Price: Average 
Buena Vista Curry Club
This is the only Indian restaurant in Havana. Flaky vegetable samosas and spicy chicken tikkas come with herby sauces made of basil and mint and creamy raita to quell the heat (though we do wish that portions were slightly bigger). Service is excellent, and if you are looking for something special to drink ask for René García, the sommelier of the house.
Food: Indian
Address: Tejadillo #24 Esq. Cuba, Habana Vieja. 
Contact:  +53 78627379
Opening Hours: 12:00 p.m – 11:00 p.m.
Price: Average – Expensive
Nazdarovie
The décor alone is worth the visit, but the food makes this a mainstay of Havana's fine dining scene. From starters like salade olivier and homemade Russian style raviolis filled with ground beef in sour cream to pan seared spicy chicken, each dish is well thought out and presented with exquisite garnishes, all combining to create a memorable experience. The staff are buoyant and attentive, but what will ultimately stun, bewitch and obsess you is the unbeatable, intoxicating view of the Malecón seen from the terrace. This is Havana at its best!
Food: Russian
Address: Malecón #25 entre Prado y Cárcel, second floor, Habana Vieja
Contact:  +53 7 8602947, http://www.nazdarovie-havana.com
Opening hours: noon till midnight
Price: Moderate

Aguacate 11
Colorful and full of life, with Mexican hats and typical catrinas hanging on the crayon painted walls, there is an incredible vibe in this place created by the fun mix of Mexican rancheras, tequila and the warming smell of corn tortillas. The cuisine is exceptional, with a Mexican chef faithful to the culinary traditions of his home. Nothing Cubanized here! For entrees, focus on the tacos and the quesadillas. Chilaquiles with frayed chicken bathed in red sauce are a mandatory order, with a strong flavor and a perfect crunchy texture. This is one of the most exciting restaurants in Havana right now.
Food: Mexican
Address: Aguacate #11, e/ Chacón y Tejadillo, Habana Vieja
Contact: +53 7866 3197
Opening hours: noon till midnight
Price: Moderate