Cuba is a very interesting and popular tourist destination for travelers from all over the world. Savvy travelers are often attracted to the city's rich traditions, cultural peculiarities, storied history and beautiful beaches. However, most recently, the natural beauty and rich biodiversity of our archipelago are stealing the limelight from the other tourist attractions.
The country has a growing reputation for a number of stunning national parks and nature reserves. There are also a handful of protected areas that showcases pristine landscapes and picturesque views, tempting nature lovers to visit and photographers of all sorts to capture Mother Nature's work of art. You'll be surprised to hear that there are untouched territories across the nation, and they are blossoming with a plethora of flora and fauna.
The natural reserves also have a wide range of activities for visitors and residents of different energy levels. From diving and mountain hiking to bird watching and sunbathing at serene beaches, the opportunities are endless. As the Cuban countryside is a breeding ground for endangered species, you might even encounter some rare, friendly creatures on your cycling tour or horseback riding day out.
Western Cuba
There are a number of the popular sightseeing spots located in the West of Cuba. For instance, the valley of Viñales is famous for its unique mountainous formations, known as Mogotes. The valley also offers stunning, hidden caves and mountain-top viewpoints for travelers to explore. For those who enjoy leisure walks, there is an impressive orchid garden of Soroa considered a biosphere reserve. Home to more than 700 species of orchids from around the globe, the garden is one of our favorite natural attractions. Travelers looking for souvenirs will enjoy spending time at the tourist complex of Las Terrazas and La Moka.
La Ciénaga de Zapata
On our ecological journey through the islands, we found a Cuban paradise of flora and fauna called La Ciénaga de Zapata. It is a marshy ecosystem that hosts more than 1,000 species of native plants and a wide variety of mammals, reptiles, birds and insects. In addition, Playa Larga is one of the most favorable diving sites in Cuba.
Guamuhaya Massif
In the central region, you'll want to visit Escambray mountain system or often known as Guamuhaya Massif. Located very close to the city of Trinidad, it covers the provinces of Sancti Spíritus, Villa Clara and Cienfuegos. The area is characterized by its beautiful landscapes, and water-flowing natural attractions such as mighty rivers, hot springs and numerous waterfalls such as El Nicho, Caburní, Vega Grande, Hanabanilla and Topes de Collantes.
Eastern Cuba
The nation's largest mountain range named Sierra Maestra is situated in Eastern Cuba. Imbued with historic beauty, the mountain range's highest point is named the Turquino Peak, and it is 1,974 meter above sea level. At the island's east end, there is Baracoa, which is one of our flagship cities. Featuring a long list of natural attractions, the city does not disappoint in terms of photo opportunities. Toa River is a must-go destination, as the area also has many waterfalls for you to visit. Here, you'll also get to see the scenic Yunque Mountains.
Cuba on the Road
There is so much flora and fauna to discover in Cuba, and planning a trip across the island may be an overwhelming task, especially selecting the many transportation and accommodation options that are available. And that is why the project named Cuba on the Road caught our attention. Created by the travel agency Daiquirí Tours (in collaboration with Ecotur), this unique program is designed for travelers who wish to explore Cuba comfortably and independently. Without making you feel like part of a large, lousy tour group, they offer an itinerary of fun excursions near their camping sites, as well as scooters and e-bikes for you to get around. You can also put together your own itinerary with their help — all according to your own interests — allowing you to get to know Cuba and its natural splendor at your own pace.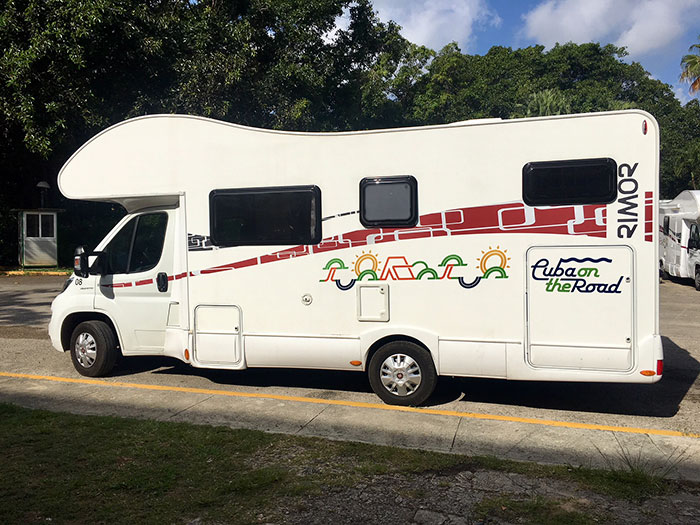 What piqued our interests and led us to recommend this particular agency is that they offer rental motor homes for you to tour the island. These modern campers are safe, fully equipped and available at very affordable prices. Throughout the West and the center of the archipelago, there are strategically located parking area's where you can fill up your tanks, connect to electricity and eliminate waste, but above all you can stay here overnight and use the facilities it offers. On top of that, the agency provides 24-hour technical assistance. After much researching, they are probably the best option to travel across the island and experience Cuba's natural reserves. You only have to rent one of their caravans, steer the wheels and discover new horizons on your own. With a seating capacity of six people (five adults + one child), there is plenty of room for a family road trip. For more information, visit Daiquiri Tours or write to info@daiquiricuba.com and start planning an unforgettable trip.