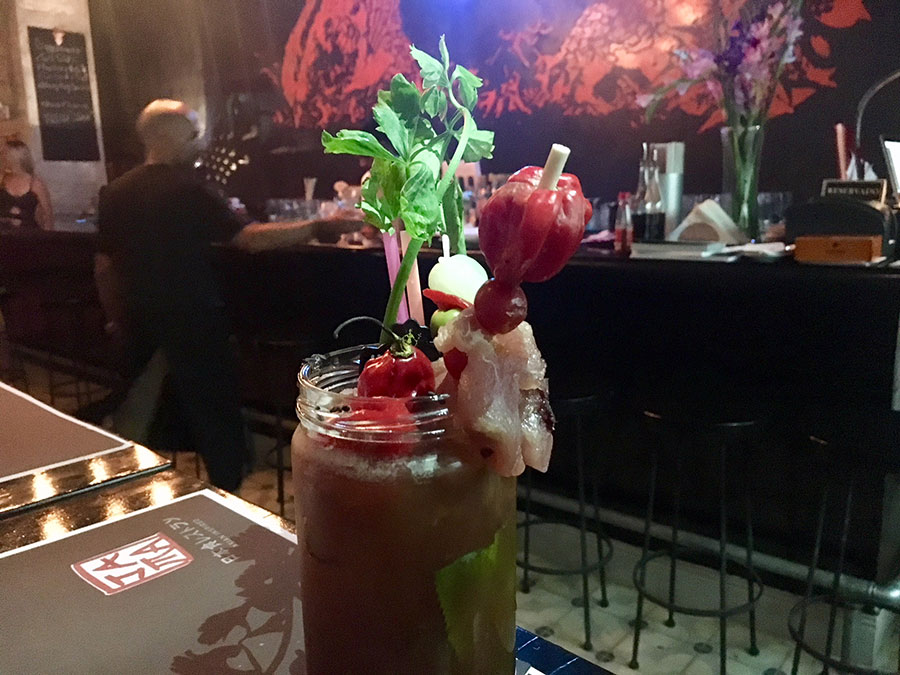 Every time we walk through Old Havana, we suddenly crave for good food. Does that happen to you too? This time around, my stomach was grumbling for some fish tacos, as well as Bloody Marys, at El del Frente. There were four of us, and to our disappointment, El del Frente and O'rreilly 304 were completely packed. As we were leaving, one of their waitresses recommended Jama to us. Since it was just around the corner and the lady insisted that we would not regret it, we headed over to Jama immediately.
With its striking red neon sign at the entrance, Jama is super easy to spot. As soon as you step inside, you'll find that the restaurant is an exciting blend of Cuban and Japanese cultures. The combination of an appetizing waft of smells, warm hospitality and daring décor of Japanese allegories somehow made us feel completely at ease. We soon settled into our seats and order our food. First thing first, Bloody Mary Samuray, which is one of their star cocktails. Surprisingly, the fun concoction also came with a mix of raw tuna, too! I also got to try a sip of the delicious michelada — a Mexican drink made with a blend of beer, lime juice, and an assortment of sauces, spices, and peppers. The drinks had impressed us already, but the food was even better. Combining authentic flavors and fresh ingredients, the selection of dishes was impeccable. We all enjoyed the dish named I love Tokio, which consists of pork heart fajitas with ginger, served with rice noodles and sesame sauce. Other standout dishes include: the assorted sushi and signature fried rice with seafood and spices.
Without a doubt, Jama is an interesting new addition to Havana. Whether you're looking for a quick bite, a wholesome dinner or just a few drinks with friends, Jama is the go-to place. Check out this incredibly cool new restaurant with quality service.
Japanese – fusion
Address: Aguiar #261b e/ San Juan y O´rreilly   +53 78642252, +53 52647977
Schedule: 12:00m – 12:00pm
Price: Average – Expensive