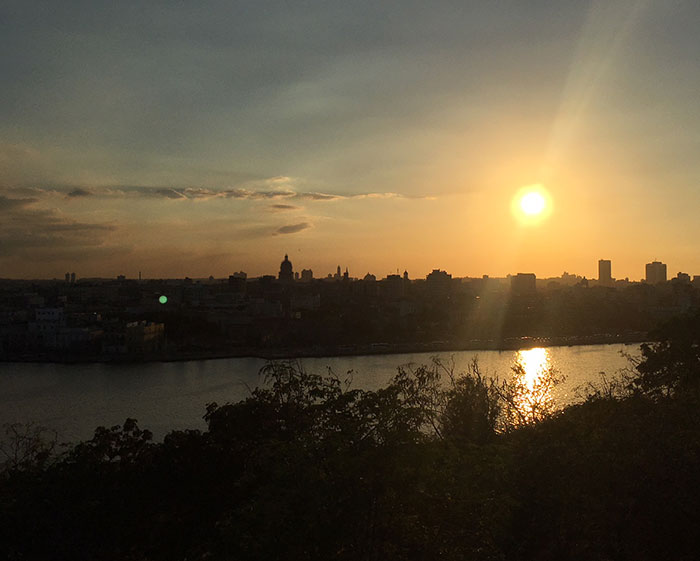 Taking the ferry across the harbor at Port Avenue is the easiest way to reach both Casablanca and Regla from Old Havana. Both Casablanca and Regla are communities that boast a long history, Afro-Cuban culture and stunning views of the city by the waters.
Casablanca is a territory that belongs to Regla, where the large sculpture of Christ of Havana stands. Since 1589, this captivating colossal marble sculpture has been a religious symbol throughout its history. Located 51 meters (or 167 feet) above sea level, Christ of Havana can be seen from any point of the capital. At night, the statue is not only a landmark but also a majestic piece of art set on stage as it lights up, painting the dark nights with colors and hope.
The Christ of Havana's eyes are, in fact, left empty to suggest that Christ is looking at everyone everywhere, making a deep connection with the city of Havana. It's easy to be mesmerized by this majestic sculpture of Christ, but don't forget it take a photograph in front of it for a memorable shot.
On the other hand, Regla is famed for its rich colonial history, which dates back to 1687 when the Peruvian pilgrim Manuel Antonio received a piece of land to build a Hermitage to La Virgen de Regla. Originally named Guaicanamar — literally translates "facing the sea" — Regla is probably one of the best island experiences. Dotted with historic centers and breathtaking relics of old buildings, Regla is a rustic, charming community.
Aside from sightseeing around town, you should sail in calm Cuban waters and hum along with the sounds of old engines of Lanchita de Regla. The little boat is currently the most efficient means of transportation to get from one side to the other. With just CUP$ 40 cents, you'll get to your destination in 10 minutes. Whereas, if you go by car, it'll probably take you another 30 minutes. Do take note of the ferry times; the first ferry leaves at 4:00 am and the last at 12 am.
From the deck of Lanchita de Regla, you get to enjoy enchanting views of the bay, as well as the castle of Tres Reyes del Morro, which is a UNESCO World Heritage Site. Lounge around and take plenty of photos, all to capture and encapsulate the beauty of Havana that is celebrating 500 years of history next year.