Big breakfasts aren't a big part of Cuban culture – Cubans just aren't that into the most important meal of the day. Locals keep it simple: an espresso or cup of café con leche (coffee with milk) and perhaps a slice of bread with butter.
The closest thing to a true Cuban breakfast would probably be a plate of rice topped with two fried eggs and plantains.
But that doesn't mean there's no place to go come sunrise. Here are Havana's 5 top places to have breakfast.
El Café
The modern minimalistic style and local touches create a cool contrast here, resulting in a blend of European flair and Cuban flavor. Attention to detail elevates the service, while the menu features exquisite homemade bread, perfectly cooked eggs and crispy bacon sandwiches daily, as well as a selection of excellent coffee offerings, natural fresh juices and refreshing mojitos. Visit during the day as it closes at 6pm.
Address: Amargura #358 e/ Villegas y Aguacate, Habana Vieja Contact: +53 7861 3817, elcafehavana@nauta.cu
Café Bahía
Hidden among the trees of a quiet area in Miramar, this charming coffee spot is just a few steps from the Cira Garcia Hospital. Relaxed and cozy, Café Bahia has rustic decorations and a maritime theme, as well as a menu of delicious, light dishes. The homemade toasted sandwiches here are all very tasty, and the octopus salad with seasonal vegetables is fantastic. Early in the morning generous doses of natural light shine through the café. Combined with the warm hospitality, top-notch breakfast choices, fresh squeezed juices and rich espresso, there is probably no better place to start the day.
Address: Calle 41 entre 14 y 18, Playa
Contact: +53 5294 3285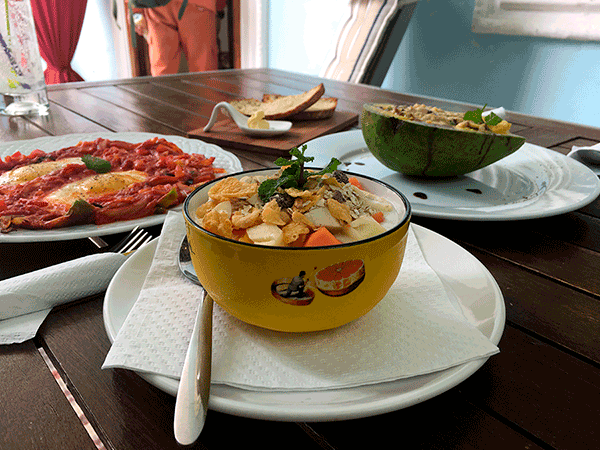 Belview Art Café
From the moment you enter you'll notice Belview Art Café's cool Berlin vibe, followed by its warm hospitality and impeccable design. The café boasts an original, eclectic style – unusual for Cuba. Each little corner is pleasant and welcoming. The menu is interesting and simple with a gourmet touch. This spot is ideal for light meals such as breakfast and quick lunches. They close at 6pm. Enjoy!
Address: Calle 6 #412 esquina 19, Vedado, Plaza
Contact: +53 7832 5429, +53 5200 4098, belviewartcafe@gmail.com
Café Bohemia
Located on Old Havana´s gorgeous Plaza Vieja, this crisply restored modern eatery has tables spread over an inviting white interior patio and outside at the Plaza. Café Bohemia offers a light menu that ranges from salads and breakfast to Italian style panini. The café also has an extensive list of cocktails, fresh juices and multiple coffee choices (rare in Cuba). The interior is small but comfortable, and the staff are helpful and friendly. The menu makes this seem a little like Cuba's answer to Le Pain Quotidien, the international bakery-restaurant chain. Perfect for a quick breakfast or a light lunch while walking the streets of Old Havana.
Address: San Ignacio # 364 e/ Muralla y Teniente Rey (Plaza Vieja), Habana Vieja
Contact: +53 5516 3381, +53 7801 8311, www.havanabohemia.com
Café de la Esquina
Nestled in the picturesque neighborhood Vedado, this attractive café is on the renowned Paseo Avenue, just a stone's throw from the Malecón. All made with high-quality, locally sourced ingredients, the signature calzones and bambinas are filled with a wide variety of stuffings, including chicken curry, dried fruits and sauteed vegetables, "ropa vieja" (stewed beef), and cheese and fried sweet plantains. They also serve a wide selection of coffees, fresh juices and handmade ice cream, provided by the acclaimed Cuban brand Helad'oro.
Address: Paseo No. 101 esquina a 5ta, Plaza
Contact: +53 7836 2565