A lot of cigars were smoked during the 2015 Havana Cigar Festival, the annual mega-cigar festival in Havana celebrating the greatest of Cuban cigars from February 23 to 28. We smoked and rated just about everything that was handed out during the five-day event that including various dinners, seminars and visits to cigar factories and tobacco plantations.
Please don't miss the wonderful videos on the event that really capture the moment: Day I, Day II & III, Day IV, and Day V. There's also a range of photographs that illustrate the wonder of this year's event.
We also posted a blog on the opening of the festival as well as a blog on the first set of cigars released and smoked during the event with ratings including the already legendary Hunters & Frankau Ramon Allones Aniversario 225.
The first set of cigars below were smoked during La Casa del Habano dinner on March 25, at the El Laguito Protocol Events Center. This was to celebrate the 25 years since the creation of first Casa del Habano cigar stores, which now number close to 200 and can be found in key cities around the world. The first casa was created in Cancun, Mexico, by Max Gutmann, a great friend and the agent in Mexico for Cuban cigars.
Here are the cigars that were offered at the event:
San Cristobal de la Habana El Principe (42 ring gauge by 110mm)
We was really surprised by the quality of this small cigar with its nutty, spicy and coffee character. It's full and rich in flavor and packs a punch. This is back to where it was after the launch in 1999. 92 points
Hoyo de Monterrey Epicure de Luxe Casa del Habano (50 ring gauge by 115 mm)
Disappointing. This was a little soapy and very strong in nicotine suggesting slightly raw tobacco. Excellent draw but lacks complexity. 87 points
La Gloria Cubana Robustos Extra La Casa del Habano 25th Aniversario   (48 ring gauge by 170mm)
This is a beautiful and harmonious smoke with walnut and light spice character and tea-leaf undertones. It's full body, and dry with a pretty austerity. Wonderful length and persistence in flavor. Perfect to smoke now. 95 points
Cohiba Genios 5 (52 ring gauge by 140mm)
This dark wrapper Cohiba smells like dark chocolate and roasted coffee beans. It's always a great smoke. Yet the flavors are balanced and intense with an incredible character of roasted chestnuts and dried tobacco. The flavor goes on for minutes after each puff. 96 points
La Gloria Cubana Piràmides La Casa del Habano 25th Aniversario (52 ring gauge by 156 mm)
We smoked this the morning after the dinner and it was a super cigar. It's a torpedo shaped cigar for those smokers who don't like the shape or vitola. The draw is precise and delivers incredible flavor with cedar, tobacco, light almond, and cream character. It's so refined and delicate even through it shows so many subtle flavors. 95 points
The following cigars were smoked on February 27 during the final Gala Dinner of the 2015 Festival Habano, which was dedicated to Montecristo, the famous prestige brand created by H. Upmann in 1935. It was a long night of entertainment, food, drinks, and cigars. About 1,000 people attended.
Montecristo No. 5 Media Corona (42 ring gauge by 102 mm)
The only problem with this tiny smoke is that it's so short that it burns a little hot. Good punchy tobacco flavors though with hints of spice and coffee. 88 points
Montecristo Petit No. 2 Tube (52 ring gauge by 120 mm)
This small torpedo came in an aluminum tube and was in perfect condition, moist yet firm. It certainly packs a punch with toasted coffee beans and cedar flavors that follow through to a full body and a fresh finish. Good short outdoor blast of a smoke. 92 points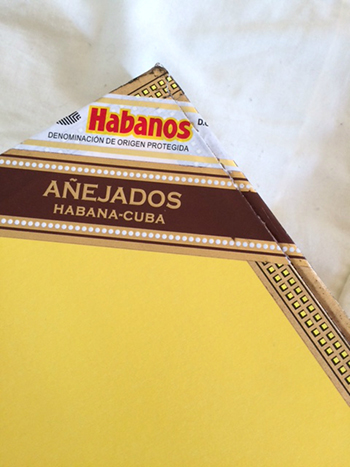 Montecristo Edmundo (52 ring gauge by 135 mm)
This started off a tiny bit bitter but calmed down to what it should be as we smoked it own with spice, mahogany, and walnut character and some dried earth. Loads of flavor. It's full, rich, and satisfying. This was my Cigar of the Year in 2014. 98 points.
Montecristo Añejados (47 ring gauge by 178 mm)
The first añejados we tried unfortunately did not draw very well yet a second cigar showed lots of spice and wet earth character with a wet mahogany undertone and a silky texture. Definitely has the flavor of tobacco five to eight years of age but the inconsistency in construction detracts from the overall quality. We smoked four different cigars and many seemed tight. 88 points
Montecristo 80th Aniversario (55 ring gauge by 165 mm)
Great draw! Love the size and cool draw. It shows so much spicy character from the dark wrapper with walnuts and coffee undertones. Reminds us of the limited edition Montecristos released over the past years but better than most. It's full and very rich with a decadent and earthy aftertaste. Full throttle smoke. This will improve with age. Only 30,000 boxes of 25 cigars will be released. 98 points