I was thinking about a Japanese whiskey and cigar tasting I did a week ago in Hong Kong at the Red Chamber cigar club prior to a Zachys wine auction on October 31. I said a few words about the cigar, a Montecristo Edmundo, which was My Cigar of the Year in 2014. The thick Habano is always a great smoke delivering masses of flavor and richness. And I can't remember ever having one that did draw. Check on my rating here. 
But what was most impress was how the cigar went with the four Japanese whiskies on pour:
Nikka Goryeo celadon ceramic No Age Statement Malt and Grain (Limited edition bottling from an undisclosed recipe or aging regime specially produced for this rare ceramic bottle run)
Suntory 1899 No Age Statement Malt and Grain (60th Anniversary Bottling from 1983 to commemorate the founding of Yamazaki in 1923)
Karuizawa Ocean 12 Year Single Malt (A business operating since the 19th century, Ocean operated out of Karuizawa distillery through the late '50s to the early '80s.
Karuizawa Spirit of Asama 48% No Age Statement Single Malt (special selection from a vatting of 77 sherry casks that were filled in 1999 and 2000)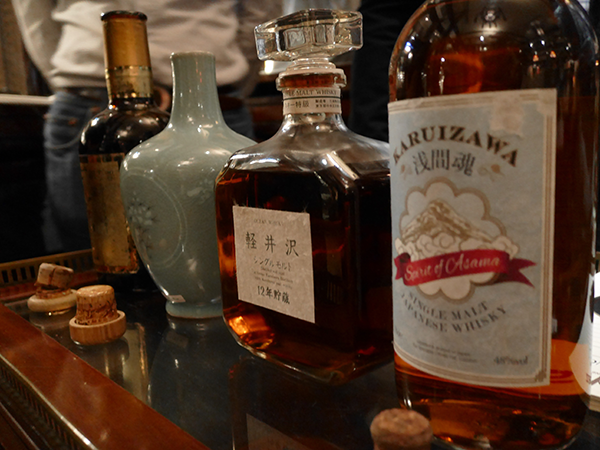 I am not an expert on Japanese whisky, but I love tasting them. And my site JamesSuckling.com has one of the best experts on Japanese drams in the world, Elliot Faber, who selected the above whiskies for the tasting. Here's how he described the four bottles:
"The first two are the softer more feminine drams while the latter two became slightly more masculine and structured," he said.
What I found in the tasting was what I have always consider as a rule for matching cigars and spirits. Softer and sweeter spirits work much better with a cigar compared to dried and heavier one. Therefore, the blend Japanese whiskies (the first two) married incredibly well with the Edmundo while the single malts (last two) fought with the tobacco. It was like two wooden blocks smashing together smoking the Edmundo and tasting the single malts. Some commented it was like drinking lighter fluid with the cigar!
This is what Elliot wrote me after the small event: "I definitely agree. I found that you lost the balance of sweet and savory that the cigar can have with the single malts. And you lost the weight of the cigar with the single malts as well."
So think sweetness and balance in your spirits when smoking an outstanding cigar, particularly a Habanos!
-James Suckling