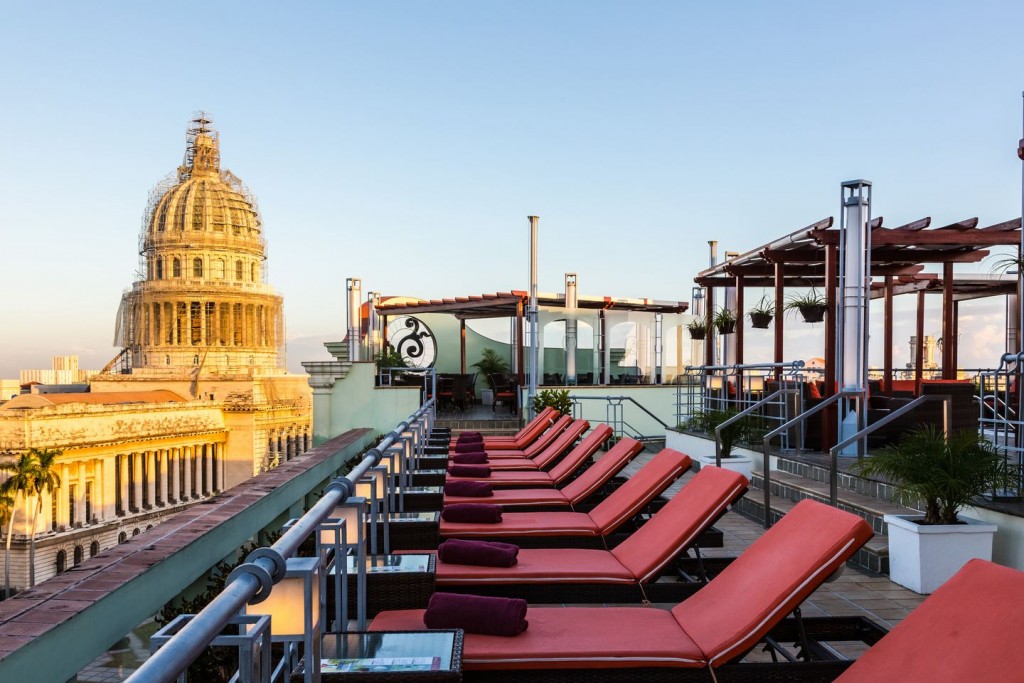 Rates: From $179 CUC and up
Basics:
Clearly the best hotel in Havana at the moment, this 96-room boutique hotel located in the heart of Central Havana, opposite to the city's landmark Capitolio, was opened in its current location in 1933. It immediately became a favored gathering place for the country's politicians, partly attracted by the sophisticated men's goods store on the first floor. It's now the inn for visiting stars and VIPs.
The Saratoga's fortunes took a sudden change in the early 1960s when the Revolution took hold and the new government nationalized the Saratoga and turned it into a low-income housing project. Today, the hotel has re-emerged as the stately and elegant doyenne of Havana hostelries. The interiors are refined, with French carpentry, grandiose pilasters, columns and sumptuously high ceilings. The hotel garnered much international attention during Beyoncé and Jay-Z's whirlwind Havana visit in 2013 when the couple stayed here for their fifth wedding anniversary in its most luxurious Havana Suite ($900 CUC a night in high season).
Rooms:
The hotel has a total of 96 rooms including seven private suites with French style windows and mahogany shutters. Sizes of the suites vary from approximately 600 square feet to 1,000 square feet. It has 49 junior suites with the rest being pleasant "deluxe patio" rooms . The air conditioned rooms are clean and neat. They achieved a retro feel we loved, despite updated conveniences such as satellite TV, DVD players, WiFi Internet, safe deposit boxes and minibars.
Location:
One of the biggest draws of the hotel is its competitive location. Almost every major tourist attractions in Centro Habana is within walking distance – the Hemingway haunt bar El Floridita is just five minutes away and the other La Bodeguita del Medio is roughly 15 minutes away. Two of the cities' finest restaurants – La Guarida and Ivan & Justo – are within a 20 minutes' walk. It's also close to the Gran Teatro de La Habana, Cuba's opera house and home to the Cuba National Ballet.
Amenities:
The hotel's rooftop terrace enjoys one of the city's best views, overlooking the imposing Capitolio and bustling Parque Central. The rooftop also has a swimming pool. Next to it, there's a Mirador Saratoga bar offering refreshments for guests. There's also the Anacaona restaurant/bar and the tropical-themed Mezzanine bar on the first floor. In addition, gym, spa and solarium and massage services are available.
Contact:
Address: Paseo del Prado 603, esquina a Dragones, La Habana, Cuba
Tel: +53 7 8681000
Website: http://www.hotel-saratoga.com