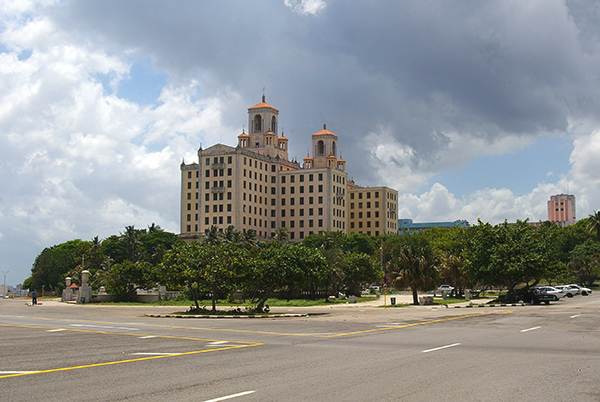 Rates: Doubles from $180 CUC and up
Basics:
Nostalgic is the best way to describe the iconic Hotel Nacional. It's striking architecture, commanding seaside location on the Malecón in Vedado, and retro feel make it a natural draw. The eclectic art-deco landmark opened in 1930, it has hosted a cascading roster of the famous and infamous, the naughty and nice, of royalty, politicians, Hollywood elite, international business tycoons, and the latter's mobster variants. The Duke and Duchess of Windsor, Tom Mix, Errol Flynn, Santos Traficante, Meyer Lansky, Winston Churchill, Fred Astaire, Ernest Hemingway and Mahmud Ahmadinejad all at one time or other called the Nacional home.
Designed and built by two American firms (McKim, Mead, and White and Purdy and Henderson Company) in a fast 14 months, for nine decades the Hotel Nacional has been the scene of a rolling narrative of Cuban and international society. Despite a major renovation/restoration in the 1990s, the hotel and grounds have a worn and retro feel – but more soul perhaps than any place we have stayed. Staff conduct a tour of this Grande Dame weekdays at 10:00am and 4:00pm – well worth the time investment to learn more details about the properties' amazing past. The terrace of the hotel with it's green garden is one of the best places to smoke a cigar in Havana.
Employees are friendly but service remains a problem and rooms can be untidy.
Rooms:
Hotel Nacional is big – with 426 rooms on eight floors. Standard rooms are functional but a little austere and dated. Executive floor doubles (our favorite) have a crisper retro feel, some with original furnishings. Executive Junior Suites are particularly spacious, with separate living rooms. Many rooms have stunning views. Rooms facing north and west have awesome views of the seawall. All rooms have airconditioning, safety deposit box, and satellite TV.
Location:
The Hotel Nacional offers easy access to the Malecón and is convenient to Habana Vieja – a short ride away in a vintage car or taxi. Located near the U.S. Embassy, it also within easy reach of the bars and restaurants in Vedado. El Gato Tuerto and the legendary night club Salon Rojo del Capri are within walking distance.
Amenities:
The hotel has several striking bars. The Gallery bar, along the sides of the interior courtyard, is a fabulous place to unwind at the end of a day, and the garden has great views of the Malecón. Both are worth a visit even if you are staying somewhere else. There are grand evening shows at the hotel's Cabaret Parisien, inaugurated in 1956 by Eartha Kit. On Tuesdays and Saturdays, a traditional Cuban music concert is presented in the "Salon 1930," sometimes with members of the Buena Vista Social Club. The elegant flagship dining room, the Comedor de Aguiar, has decent food and a good wine selection. Food and drink are also available poolside. Speaking of drink, off the hotel's beautiful lobby is a small shopping arcade with a wine and spirits store that stocks a good variety of Cuban rums. A gym and tennis court round out the iconic hotels offerings.
Contact:
Address: Calle 21 y O, Vedado, Plaza, Havana 10400
Tel: +53 7 8363564
Website: http://www.hotelnacionaldecuba.com/en/home.asp