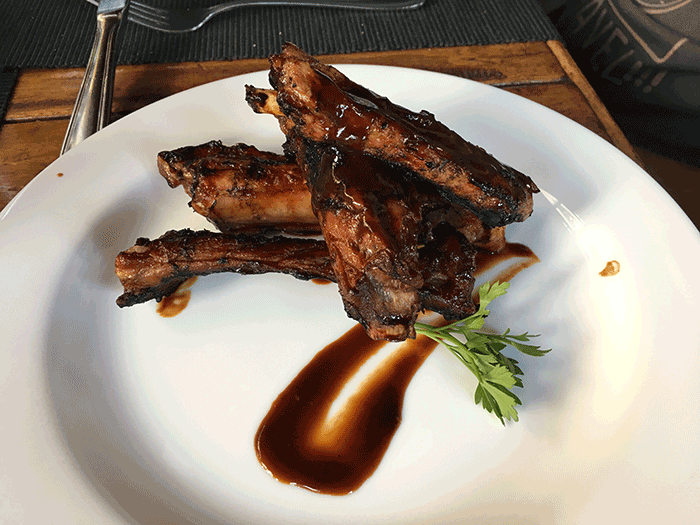 Doctor Café opened in 1996, and has not changed much since. It was part of the first wave of Cuban paladares (a term used in Cuba to describe private restaurants), arriving at the same time as La Guarida and La Fontana. They have always maintained a low profile, situated in the peaceful neighborhood of Miramar. Doctor Café is rarely mentioned in lists of top places to visit in Havana, but it's a unique restaurant, with customers who tend to be regulars, mostly Cubans or foreign residents.
Unusually, they don't have a menu; the offerings vary depending on what's available that day. The grilled meats are a speciality, but they also have several other types of meat, as well as fish and seafood. All the ingredients are incredibly fresh and top quality. Just don't expect elaborate dishes. The appeal here is in simple, natural flavors of the food.
Without exaggeration, the last time I went, I had the best steak in years, served with a delicious plantain fufú. The meat was perfectly cooked and incredibly tender, something you can't always find in Havana. I also tried a couple of pork ribs, the serrano ham croquettes and the snapper ceviche; all were exceptional.
It's not cool or trendy, just comfortable and pleasant. It has an indoor area and a terrace. If it's not too hot, ask for a seat outside and let the smell of grilled meat work on your appetite. This is a perfect spot for family dinners. I find it more pleasant at lunch time. They also have some good Chilean and Spanish red wines and the usual cocktail bar.
Food: Cuban and International
Schedule: Every day 12:00 – 00:00 hrs
Cost: 15 – 21 cuc
Address: Calle 28 #111 e/ 1ra y 3ra, Playa. Contact: +53 72034718, www.doctorcafehabana.com