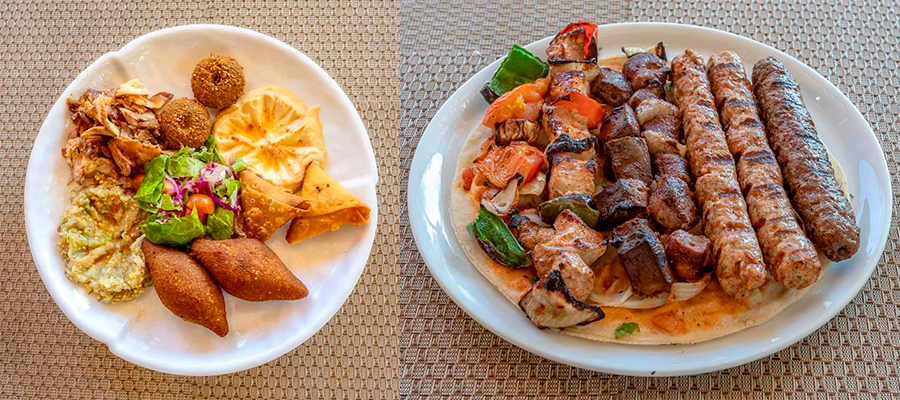 Before it became Amir Shisha, this beautiful location was home to the Korean restaurant Club Su Miramar. That project did not go as expected, so the owners brought on a Lebanese restaurant partner who added his own homegrown touches. The result is an interesting and exotic restaurant with exquisite Lebanese dishes mixed with some Korean classics.
The restaurant consists of an immense manicured courtyard surrounded by tropical trees and bamboo plants, and through a set of sleek sliding doors the kitchen, where the chefs show off their expert techniques. They offer a rich variety of oriental dishes and flavors, with fresh ingredients and top-notch products, all made to halal standards.
To start, we recommend the Amir Shisha assortment; which brings falafel, kebbe, sambusak, hummus, baba ghannouj, shawarma and various Arabic breads and vegetables. This selection allows you to try most of the star recipes and is more than enough for two people. Then move on to the shish – tender lamb or chicken kebabs, served with deliciously smooth hummus and rice on the side. These are the highlights here. From the Korean dishes you can't go wrong with tightly wrapped kimbab with smoked salmon, cheyukbokum and bulgogi scented with ginger.
On weekends you can chow down while watching a belly-dance show from several Cuban dancers who have mastered this traditional Arab dance perfectly. They also offer a catering service and offer the space for events; the patio is wonderful for that. And of course, if you like Arabic aromas, this is the place to smoke shisha in Havana.
Food: Arabic 
Address: Calle 40 A #115 e/ 1ra y 3ra, Miramar, Playa
Contact: +53 7206 3443, shishaamir40a@gmail.com
Average Price: 8.00 – 14.00 cuc
Schedule: Every Day 12:00 p.m. – 12:00 a.m.