I have been drinking wine in Cuba for more than 20 years while legally travelling to the island as a journalist – first with Cigar Aficionado magazine and now with JamesSuckling.com and Havanainisder.com.
It always seems strange drinking bottles of mostly Spanish and Chilean wines in the few restaurants that offer them in Havana and outside the capital. Most often, everyone else is drinking cocktails, rum or cold beers. There is no wine culture in Cuba.
But this could all happily change as hundreds of thousands of Americans visit Cuba this year and in the future, and they look for their favorite reds to go with roasted pork and black beans and rice.
Cuba is ever popular in the minds of Americans at the moment with the improved relations between the United States and the island nation. And hundreds of US trade organizations and delegations have already travelled to Cuba since President Obama's announcement in mid-December 2014 of a change in US policy with Cuba.
One of the latest trade groups on their way to Cuba is a delegation consisting of about 100 California vintners participating in the first-ever California Wine Symposium from February 1 to 2, organized by Sonoma-based U.S. CAVA Exports (USCE), according to a press release issued by the California trade promotion group a few days ago.
The symposium will bring together vintners and wines from throughout the Golden State with sommeliers, restaurateurs, chefs, hotel managers, importers and distributors in Cuba, says the group in the press release.
The California Wine Symposium will include a Grand Tasting at the Hotel Palco Convention Center in Havana on February 2 and seminar presentations featuring information about California wine country and California wines ready to export. This is the venue for seminars during the annual cigar festival in late February. 
"I am pleased to be leading this vintner delegation on the precedent setting California wine trade mission," says USCE founder Darius Anderson. "The time is right and the interest is unprecedented, especially among the growing community of privately-owned family-run restaurants known as paladares, and the hoteliers who serve the rapidly expanding Cuban tourist market."
What vintners don't know is that the wine market there is only worth between $10 million and $15 million following various interviews with importers and government officials I have made over the last three years. Most of the sales are cheap wines from Spain for all inclusive beach hotels with an average value of two or three dollars a liter.
Cuba had a winery in the 1990s, established by the northeast Italian wine company, Fantinel. It made wine from imported grape must from Italy and Spain in a small modern winery I visited in San Antonio de los Baños. It no longer exists but the brand it sold wine under does – Castillo de Moro. 
I have read that some Spanish companies planted vines in the early 2000s in the hills just outside of Havana on the way to the tobacco region of Pinar del Rio. But I don't believe it worked.
The premium wine market – wines that cost $10 or more a bottle – is limited to a few dozen restaurants and hotels for tourists, foreign businessmen and diplomats. Please check out our website with the names of the best restaurants and bars in Havana on our website – www.havanainsider.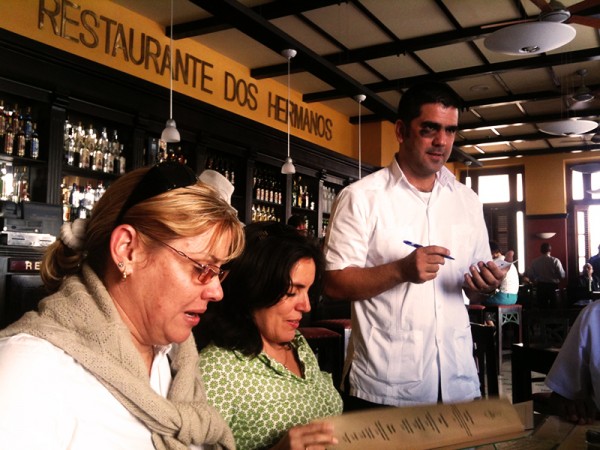 Havana has one tiny wine shop next to the Melia Cohiba hotel and a few bottles are sold in two or three supermarkets where foreigners frequent and buy imported foods at prices about the same level as Miami. The distribution of wine is tightly controlled by the Cuban government and only a handful of companies have been granted licenses to sell wine to retail outlets. Torres and Soroa from Spain are some of the most important names.
With a market of about 10,000 to 15,000 cases at the moment, Cubans do not have the money to buy wine and prefer drinking beer and rum. Wine is obviously not included in their monthly food rations.
Joel Peterson, founder of Ravenswood Winery in Sonoma, California and a member of the 100-vintner delegation, says that the California Wine Symposium signals the new possibilities within reach since the opening of relations between the U.S. and Cuba.  "We are ready to bring California wines to the Cuban market and we can't wait to introduce the wide range of wines California has to offer during this historic event," he comments.  
I wish them luck and I hope to see California wines available in the best restaurants and hotels in Havana.