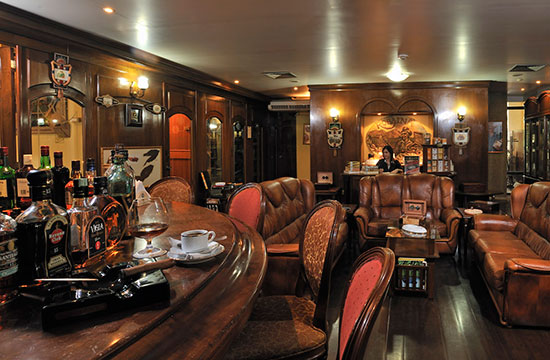 Rates: Doubles from $191 CUC in summer; Junior suites $280 CUC
Basics:
Located in the upscale Embassy neighborhood of Miramar, the Meliá Habana Hotel is unquestionably one of Havana's better hotels. Located on a lush "compound" across the street from the Miramar Trade Center, this is an ideal business hotel. But its beautiful seaside location (attention: no beach), enormous main pool with swim-up bar, and beautiful lobby all make this nine-floor modern hotel a very nice option for casual travelers who want to be accessible to, but removed from, the bustle of the city. We have always found staff pleasant and helpful, particularly the concierges.
Rooms:
The Meliá Habana has 397 rooms spread out over two buildings. Rooms are all large, at around 500 square feet, but the standard rooms lack élan in their decor and feel. The absolutely beautiful sea view of some more than makes up for that. The 12 Junior Suites, at over 1,000 square feet, have separate bedroom and living rooms, plus two bathrooms and balconies. They are a good value for people who want space. We really like The Level rooms in a private area on floors 8-9 – essentially club rooms with extra amenities, a private lounge, free pressing and dedicated staff. They start at $229 CUC and are a great value. All rooms are air-conditioned and have standard business features, including safety deposit boxes, satellite TV, and WiFi (see below).
Location:
The Meliá Habana is located in the residential neighborhood of Miramar, about seven miles from Old Havana, in a quiet and peaceful neighborhood bordering the sea. There is a free shuttle to Habana Vieja every half hour, as well as easily accessible taxis. It is fair to call the surrounding neighborhood sedate, but it is fair to say that we really need that sometimes. While not hopping at night, the hotel is only a short drive away to a number of restaurants favored by the international and diplomatic community in Miramar, such as El Cocinero, El Aljibe, Esperanza, all on our top ten restaurant list in Havana.
Amenities:
The hotel has several restaurants (we like the Italian one best) and bars, three pools (one enormous, with a thatched-roof swim up bar) and a fitness center. Best of all for some guests, there are a handful of shops selling art, jewelry and antiques – and a Habanos store with a good selection of cigars. Another shop across the street sells basic provisions. This is about as consumerist as Havana gets. The lobby is visually very attractive and a good meeting or relaxing area. WiFi is pricey at $10 CUC per hour.
Contact:
Address: Ave. 3Era. E/ 76 Y 80 Miramar, La Habana, Cuba
Tel: +53 7 2048500
Website: http://www.meliacuba.com/cuba-hotels/hotel-melia-habana