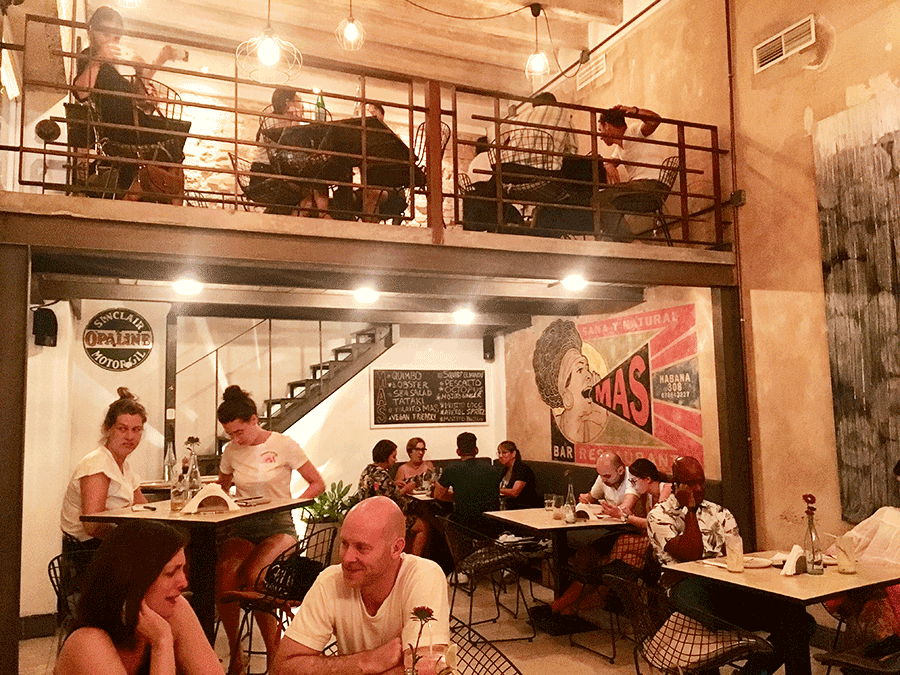 It's hard to think of a better location for a restaurant than this, within easy reach of pretty much anywhere in Old Havana. But this perfect setting can make for a tricky business enterprise, as it attracts many other top restaurants.
Más Habana is doing just fine, but it would be nice to see them doing even better, as this is a great restaurant that deserves to be appreciated.
From the street you can see the whole restaurant through its large windows, which – if the time is right – remain open wide, absorbing the buzz and outdoor lighting. Like many properties in the area, Más Habana opted to improvise a mezzanine with a few tables to take advantage of the high ceilings. During live jazz nights on weekends this is the best place in the house; it reminds me of a box in the opera.
The cocktail menu has the usual offerings, and we suggest going with the Cuban classics (mojito, daiquiri, piña colada). They also have a nice collection of premium rums and some good French wines by the glass. After dinner, stay a bit longer for a few drinks and enjoy this charming atmosphere.
Its cuisine can be described as fusion, with a small and inventive menu that alternates between classic Cuban and international recipes. The empanadas stuffed with pesto are exceptional; crunchy on the outside, super fresh basil, and real pine nuts and parmesan in the pesto sauce. Their croquettes with cachucha pepper sauce (a type of sweet pepper (not spicy) commonly used in Caribbean cuisine) are also a standout option. The grilled dorado served with ajoarriero also comes highly recommended (it's super tender and juicy) while the barbecue pork ribs are also exceptional, a little bit burned at the tips and served with an interesting bittersweet guava sauce.
Finally, don't miss the expresso coffee. It's strong, thick and comes with a piece of sugar cane to add a delicious natural sweetness.
Food: Cuban, International
Schedule: Daily 12:00 – 00:00 hrs
Cost: 10 – 18 cuc
Address: Habana #308 e/ San Juan de Dios y O'rreily, Habana Vieja
Contact: +53 7864 3227