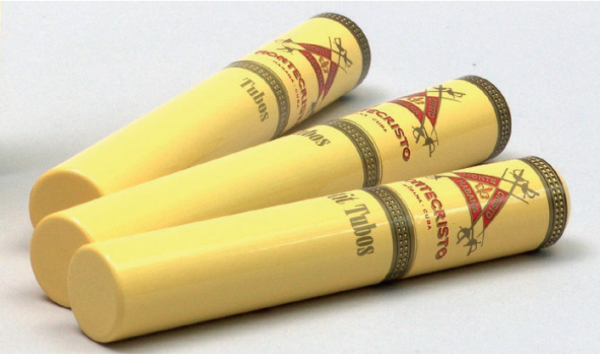 I have always been a fan of tubed cigars, or tubos as they say in Spanish.
Tubos are so convenient for carrying single cigars, and they preserve the cigars beautifully. I suspect they also float, but I've never experimented!
I went out on a friend's boat in the Hong Kong harbour a while back, and I threw a three pack of Hoyo de Monterrey Epicure No. 2 Tubos into my beach bag. A day out for some sun and sea always calls for a great smoke. Granted, I would have liked something a little stronger because smoking outside loses some of the nuances of more balanced cigars such as the Epi No. 2, but the cigar was beautiful, with creamy, spice and a light coffee character. It burned perfectly and the moisture was perfect from the tubo. The Epi No. 2 is one of my go-to cigars at the moment. It's always a 93-94-point smoke.
I also had another perfect tubo experience as a judge at the Royal Melbourne Wine Show a few years ago, where over four days I tasted about 600 wines ranging from fresh young sauvignon blanc to spicy, intense shiraz. My palate felt like sandpaper after tasting loads of young wines, so one night I smoked a Montecristo Edmundo Tubo. This was a rich yet velvety textured cigar with dark chocolate and coffee character. It was the perfect palate relaxer after a long day of tasting. It went well with the Spanish beer the judges were drinking at a taco joint in downtown Melbourne. 94 points for the smoke.
I think it's a bit of urban cigar legend that tubos are used for the worse cigars of a particular size, or vitola. I heard this over the years as a cigar smoker. And I have no evidence to confirm this. People said that poor-looking cigars were tubed because the consumer couldn't see them. In fact, recent tubos that I've smoked have been beautiful.
Cigars in tubes also age extremely well. One of the best cigars I have ever smoked was a H. Upmann Monarch in a screw cap aluminium tube. The cigar was about 30 years old and it had been kept perfectly, thanks to the tubos. I also still have some Bolívar Petit Coronas from the 1950s that I purchased at Christie's in the late 1980s that are still gloriously rich and spicy. In the end, I probably have a soft spot for tubos because it was a Romeo & Julieta No. 3 in an aluminium tube that was my first experience smoking a Cuban cigar.
I was in Napa Valley in 1983 with a French vintner who had a box, and he offered me one after a long dinner. I had only been smoking glass-tubed Hoyos from Honduras at the time, after giving up pipe smoking following my studies at university. I was blown away by the complexity and flavor of the cigar compared to my usual smoke. This began my love affair with Cuban cigars and always made me enjoy a good tubo.
– James Suckling