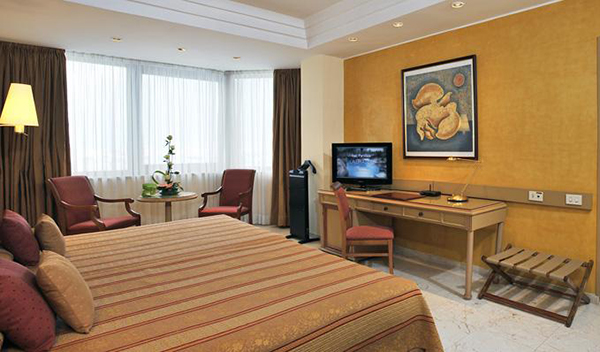 Rates: Standards from $177 CUC and up
Basics:
This 22-floor, 462-room high-rise in the Vedado area is Havana's most luxurious and modern business hotel. We have stayed here for years and enjoyed the cleanliness and service, albeit lacking a bit of charm. It is ideal for globetrotting businessmen and hosting large events, thanks to its efficient hotel services and well-polished facilities. It has a large convention area capable of accommodating 1,000 people and offers tailored VIP business receptions. Most notably, the hotel has an exclusive "club" service called The Level consisting of three floors within the hotel, creating a quasi independent hotel within itself. This comes with its own reception, VIP bar lounge, suites, Internet rooms and conference rooms. The staff are efficient and speak good English.
Rooms:
The nominally five-star hotel's top floors, from 18 to 21, are reserved for The Level. They feature 57 namesake Level Rooms decorated in pastel colors with impeccable views of the city, including mesmerizing views of the Malecón. The third to 17th floors are where the standard and grand suite rooms are located. All rooms are well equipped with telephone, satellite TV, king-size bed, coffee makers WiFi and Internet. Rooms on The Level are also equipped with a jacuzzi bath. There are doctors and nurses on call from Monday through Saturday. Wheelchairs are available on request. The hotel has smoking rooms and non-smoking ones. Be sure to check this if you are a non-smoker.
Location:
The hotel is only five minutes away from the Malecón, where visitors can stroll along the seaside and enjoy Havana's beautiful sunset. The Plaza de la Revolución, and the José Martí Memorial, are also in the vicinity. The country's most famous ice cream parlor Coppelia is about 15 minutes away from the hotel.
Amenities:
The hotel has four restaurants serving international food and grilled items. La Piazza offers tasty Italian food and its espresso is one of the best in the city. There's an outdoor swimming pool on the second floor. Other wellness facilities include a beauty salon, a fitness center and a squash court. For music lovers, don't miss the Habana Café in the hotel, a hard rock café-esque bar in Havana. Members of the legendary Buena Vista Social Club are frequent performers here. There's also a shopping center inside the hotel if you are looking for souvenirs and gifts to bring home. Also, don't miss the well-stocked cigar shop in the hotel.
Contact:
Address: Ave. Paseo entre 1ª y 3ª Vedado, Habana, Cuba
Tel: +53 7 8333636
Website: http://www.melia.com/en/hotels/cuba/havana/melia-cohiba/index.html