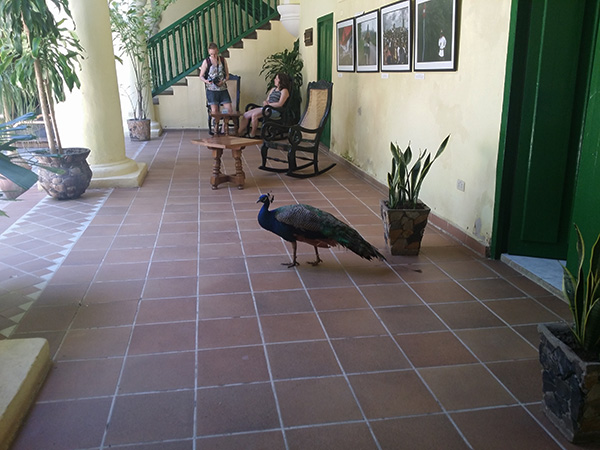 Rates: Doubles from $77 CUC and up
Basics:
A cigar smokers paradise, the former residence of Count Villanueva was turned into a courtyard-style boutique hotel in Old Havana in 1998. One of the 20-odd hotels run by the city's hotel brand Habaguanex, the nine-room hotel has a red façade that opens up to a lush courtyard. A café is hidden in the back of the courtyard, where free-roaming birds and peacocks amble lazily. The lobby and reception are well furbished and the front desk staff are more than willing to provide suggestions for visiting Old Havana.
Rooms:
Out of its total nine rooms, seven are standards and two suites. It is designed for hard-core cigar lovers: each of the nine rooms is named after a famous tobacco growing region. One of the suites, for example, is named San Juan y Martínez, a municipality in Pinar del Río province, which produces the country's finest tobacco leaves. Smoking is allowed in each room, but one lacks a window. Rooms are spacious and comfortable, with a decidedly vintage feel. All the rooms are air-conditioned and are recently renovated. Some can be a little dark.
Location:
Conveniently located close to two of Havana's plazas – Plaza Vieja and Plaza de San Francisco – the hotel is close to some of the area's best restaurants such as El Templete and Doña Eutimia. Outside of the hotel there's a small park where musicians are playing every day. Transportation is easy as well, as taxis can be found near the two main plazas.
Amenities:
The hotel has a café, and a restaurant that offers Cuban and international food. The Vuelta Abajo restaurant on the first floor of the building took its name from a famous tobacco plantation, as a part of the hotel's overall cigar theme. Perhaps the highlight of the hotel is its top-notch cigar shop, a temple for cigar lovers. Its "sommelier" Joel says it has more than 10,000 Cuban cigars in stock. Inside the cigar shop, there's also a cigar bar and a cigar manufacturing workshop.
Contact:
Address: Calle de los Mercaderes No. 202 esq. a Lamparilla, Lamparilla, La Habana, Cuba
Tel: +53 7 8629293
Website: http://hotelcondevillanueva.com