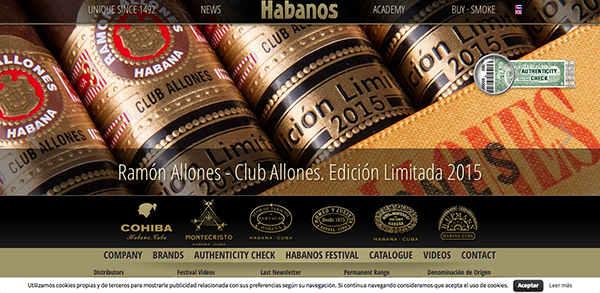 Habanos S.A., Cuba's state company that distributes and markets Cuban cigars, has launched a new website, which according to the cigar company, will provide users better site navigation and more comprehensive information on cigars.
One new feature introduced to the bilingual site in both English and Spanish is an interactive portfolio tool that allows users to specify the search by using different criteria to find the best cigar they are looking for, says the company in a press release.
The site also offers an extensive documentary and multimedia archive called "Academy: The World of the Habano". The section offers information in detail about the origin, manufacturing process and the characteristics of different Habanos including advice on their conservation and enjoyment, says the company. The content for this section is available in eight languages namely English, Spanish, French, German, Italian, Dutch, Portuguese and Russian.
Another highlight of the new site is the section where it allows visitors to browse all the Habanos in the world as well as the horeca places where one can taste the cigars by visiting the "Buy · Smoke" section on the top of the website.
In addition, users can check the authenticity of the purchased Cuban cigars, using the Authenticity Check Tool by entering the barcode on the label. News and event schedules for Havana's annual cigar festival are also available on the site. The 2016 Habanos Cigar Festival is scheduled from February 29 to March 4.
Combine this with ratings from James on www.jamessuckling.com and www.havanainsider.com, Cuban cigar lovers should have all the information and advice they need to find the best Habanos.