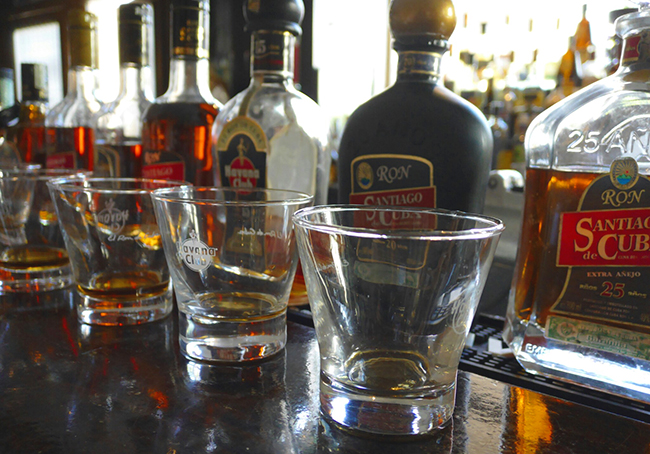 Rum went global a long time ago. It fuelled the British sailor for centuries. By the 1700s it had taken root in Europe and North America (150 distilleries in New England alone by 1763!) , and became a commodity of huge economic importance. Today it is made almost everywhere.
But its real cradle is the Caribbean, where Christopher Columbus introduced sugar cane from the Canary Islands on his second voyage in 1493-94. Good move. Cane thrived in the West Indies, and today the region makes the top rums in the world. Nowhere is rum production more famous than Cuba, which had over 1,000 distilleries by the mid-19th century. Today it produces a wide array of styles and brands, many unfamiliar to U.S. consumers.
Cuban rum starts simply, with molasses, yeast, and water – fermented, then distilled by continuous method into a clean white spirit.
That's where art starts to take over from agriculture and science, as producers start aging the young rum in various woods and other containers, sometimes continuing on for decades. Master rum-makers, roneros in Spanish, work the process with passion and precision, blending rums to create a wide spectrum of consistent styles. (You can learn about the process at the Havana Club museum in Havana.)
These range from a light white rums—which may have been aged up to two years and are the perfect building block for Cuba's famous fruit-based cocktails—to tremendously complex, intense, and rich old rums, whose beautifully integrated caramel, coffee, and burnt orange notes persist across an almost limitless finish.
And in between there are a range of products of varying ages, increasingly amber as you work up in years, that can be enjoyed neat or on the rocks, and that find their way into a number of Cuban desert classics and other dishes. The variety is striking. Check out James Sucklings ratings of a number of the best Cuban rums available on the market in Havana. We will  continue regularly to review and rate Cuban rums, so stay tuned.
It's worth noting that these rums are not legally available commercially in the U.S. because of its embargo on Cuba.  But, under new regulations American travelers are allowed to bring back up to $100 worth of rum and cigars (combined total).  Fortunately you can enjoy many of the very top rums (some with production runs as low as 1,000 bottles) in Havana's bars and restaurants.
Whether you enjoy Cuban rum in Havana, or back home, you are drinking history, culture, and identity – a beautiful excursion into Cuba's spirit.