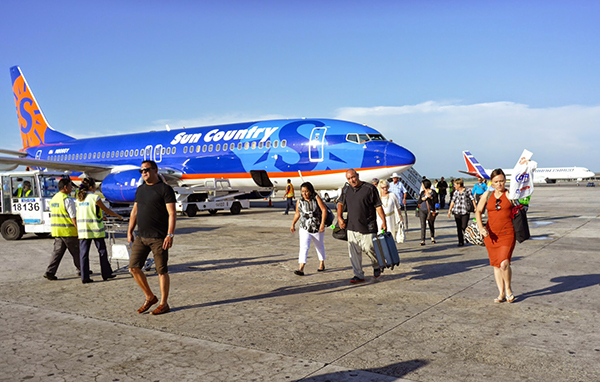 Recent changes in U.S. regulations regarding Cuba travel-related transactions have made it much easier for United States citizens to visit Cuba legally. The number doing so is increasing notably, as are the number of direct flights from the U.S. to Cuba. The U.S. has also recently licensed ferry and cruise ship service to Cuba, but the timing of the start of this service is still unclear.
However, there remains a number of conditions on authorized travel, and it is important for travelers to understand them. (See links in the text below.)
Specifically, the U.S. Treasury Department's Office of Foreign Assets Control (OFAC) has issued general licenses for transactions related to 12 categories of authorized travel to Cuba, that previously required a specific license.
Authorized categories include travel for educational purposes and professional meetings.
(It is important to note that the U.S. embargo remains in place, and tourist travel per se to Cuba by U.S. citizens remains illegal. U.S. citizens who want to travel to Cuba legally must ensure that the purpose of their travel complies with U.S. regulations. An explanatory document of Frequently Asked Questions recently published by the U.S. Government details travel-related regulations.)
Many Americans who travel to Cuba do so under the general license for "people-to-people" educational activities. As a practical matter, the most straightforward way to do this is to  travel under the auspices of a program that sponsors such activities, and adhere to a full-time schedule of activities intended to enhance contact with the Cuban people.
A growing number of travel providers in the U.S. are organizing people-to-people travel to Cuba, focused on a wide range of interests. At present most flights between the U.S. and Cuba are technically charters, even though many follow regular schedules and are operated by established air carriers. Some of these flights can now be booked directly online. 
When travel is booked, either directly or through a travel organization, passengers will generally be asked to specify the category of general license under which they plan to travel. Upon check-in, air passengers can expect to be presented a form to sign confirming that category.
Travel organizers or carriers can also advise on visa and other formalities, and can generally process a single entry tourist visa (approximately $85) that will be provided to travelers upon check-in. Most people-to-people travelers from the U.S. enter Cuba on such a tourist visa. A valid passport is required for travel.  Recent travelers advise that customs and immigration formalities at Havana's Jose Martí International Airport were quick, friendly, and efficient.