Cuba has long been one of the least digitally connected countries in the world, but that is slowly changing. In July, the island country opened up 35 public WiFi access points nationwide.
Access costs $2 CUC per hour, still hefty for most Cubans but cheaper than fees in hotels, which often charge from $6CUC to $10 CUC an hour.
According to an official document released by the state telecommunications monopoly ETECSA, users who have a temporary or permanent Nauta account will be able to surf the Internet with any WiFi-enabled portable devices including smartphones, laptops and tablets. The Nauta account is supported by the Nauta.cu server and can be bought at five ETECSA branches in Havana (listed below with address). The account will be manually set up at the branches and a passport is required when purchasing one.
Telepunto del Focsa: Calle 17 y M, Edif. Focsa, Vedado, Plaza de Revolución
Telepunto Tercera y 42: Avenida 42 esquina a 3ra, Miramar
Telepunto 17: Calle 17 e/A y B, Vedado
Telepunto Obispo: Obispo No. 351 e/Habana y Compostela, Habana Vieja
Telepunto Aguila: Aguila esquina Dragones, Centro Habana
And once you are connected to the ETECSA WiFi at one of the 35 WiFi hot spots, the following screen grab will pop up for you to input your username and password assigned from the Nauta account.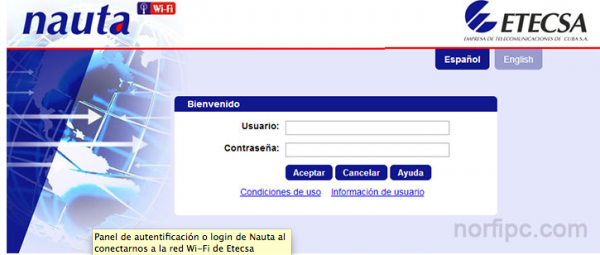 Here is also a detailed list of the 35 public WiFi spots available nationwide in Cuba including five in Havana. The most convenient one is located in La Rampa, the last stretch of Calle 23 between Malecón and Yara Cinema in Vedado area.
La Habana: La Rampa (Malecón hasta el cine Yara), Parque de 51 en La Lisa, Parque Fe del Valle (Galeano y San Rafael), el Anfiteatro de Marianao y el Paseo de la Villa Panamericana
Pinar del Río: Parques Independencia y Roberto Amarán
Artemisa: Boulevard y parque de la Iglesia
Mayabeque: Parque de Güines y Boulevard de San José
Matanzas: Parques La Libertad y Peñas Altas
Villa Clara: Parques Leoncio Vidal y Remedio
Cienfuegos: Parque Martí y el Rápido Punta Gorda
Spiritus: Parques Céspedes de Trinidad y Serafín Sánchez
Ciego de Ávila: Parques Martí y Morón
Camagüey: Parque Agramonte y plaza del Gallo
Las Tunas: Plaza Martiana y Tanque de Buena Vista
Holguín: Parques Calixto García y Julio Grave de Peralta
Granma: Bulevares Bayamo y Manzanillo
Santiago de Cuba: parques Céspedes, Ferreiro y Plaza de Marte
Guantánamo: Parque Martí y parque central Baracoa
Isla de la Juventud: Boulevard Nueva Gerona.