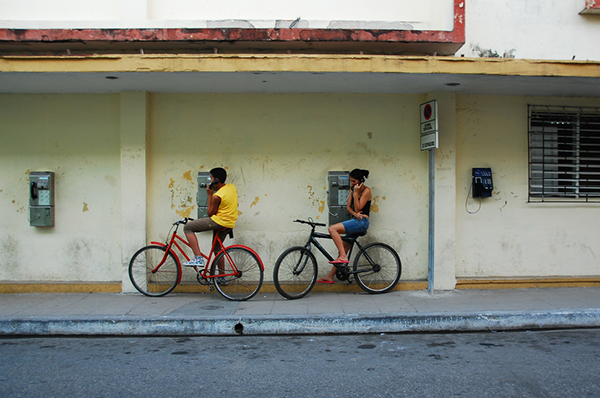 Public Free WiFi Spot:
The first and only free public WiFi spot in Havana is located in the studio compound of the famous artist Kcho. It is a big draw for Cubans who want to surf the web, use social media, and connect with friends and family outside the country. Access can be slow because of the large number of people utilizing the spot. For more on connectivity, see our post on how Internet works in Cuba. In July, Cuba opened another 35 WiFi hot spots at relatively lower price compared with hotels.
Address: Romerillo Art Studio, Ninth and 120th streets of the Romerillo neighborhood, Playa, Havana.
Cellphone:
Mobile service in Cuba is provided by state carrier Cubacel, which sells temporary SIM cards that can be used for local and international calls. This is technically rented by the state company to the tourists on a daily basis. Tourists are requested to bring along their passports and fill out the rental dates. Permanent SIM cards (valid for two years) are also available for tourists but require a $50 CUC deposit. International phone calls are slightly cheaper with permanent SIM cards than with temporary cards. The cards are available at Cubacel offices in Havana and all the branches at ETECSA, Cuba's state-owned telecommunications company. Cubacel also has a branch at the José Martí International Airport near Terminal 2.
Roaming is not available for phones on  U.S. carrier contracts,  but high-level discussions are underway between both countries as well as service providers. Non-American visitors to Cuban can use their mobile phones but the roaming charges and call-per-minute costs are some of the highest in the world. Long distance calls per minute can be as high as $6. Local calls are around $2. In addition, data charges are extremely high, although some carries such as Hong Kong's mobile service provider called
3 Hong Kong
have a flat day rate of about $20 with unlimited data.
Cost aside,  mobile service and coverage are available, but spotty at best unless you are in the center of Havana.
Skype in Cuba: 
Skype works in Cuba only with an Internet connection of sufficient speed. Some visitors have successfully used Google Hangouts and Viber for voice and video chat over the Internet, but connection speeds are generally too slow.